Message from the President
"Solution for workforce shortage"x"Creation of environmental value"= Becoming a company which is in need of customers and society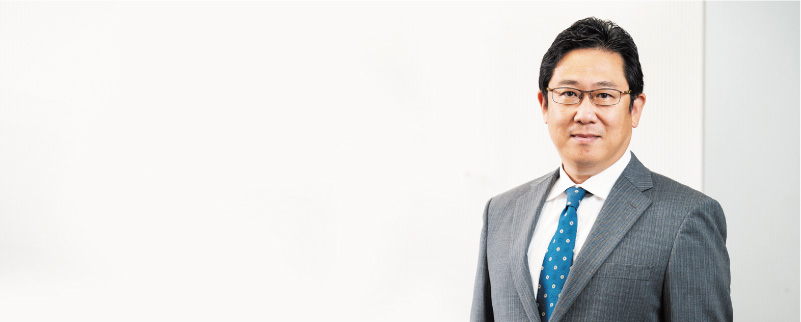 "Solution for workforce shortage"
x "Creation of environmental value"
=Becoming a company which is in need of
customers and society
Greeting
I am Kazumasa Hamada, a new President of the company. At the moment, AEON delight is proceeding its Mid-term Management Plan based with three principles; "IFM", "Asia" and "Technology", while aiming to become a global facility management (hereinafter "FM") corporation from Japan.
My mission is to make sure that the company is on a steady path to its growth, without being affected by the success experience from the past. I would sincerely appreciate your continuous support.
Enchantment of AEON delight
In the past I had dealt with AEON delight from a position of a colleague of AEON Group and also as a business client. Therefore, I had always thought that I knew well about AEON delight (hereinafter "our company"). However, since I joined the company as of March 2018, it turned out to be a surprise for me to learn that it is a company filled with venture spirit far more than I had imagined.
For instance, I would like to refer to its initiative towards introducing Artificial Intelligence (hereinafter AI,). Our company has been focusing on AI technology since very early stage in order to proceed towards labor saving/automation of FM; and has been executing initiative towards reformation of the current core business of the company. In order to speed up the growth, our company already has been proactively building alliance with the external parties with an idea of open innovation, such as cooperating with top-tier AI corporation in China where the progress of digitalization is remarkable. I feel that our company has the strongest venture spirit in AEON Group. I am filled with expectation towards the future of our company, with a big potential.
To keep growing further
This term marks the second year of Mid-term Management Plan (FY2017-2019). The previous term, which was the first year, we experienced delays from our original plan due to the fact that impact caused by the workforce shortage were stronger than our anticipation. However, I consider that the direction of our three principles "IFM", "Asia" and "Technology" is absolutely correct.
By re-questioning the meaning of our existence based on the environmental changes such as declining mount of labor force and ageing society, we reached to our mid-term and long-term vision: "solving a social issue called workforce shortage from a field of FM". "Workforce shortage" does not only exist in Japan. Also in China, along with its ageing society, the issue has been in critical condition. I consider that there is a big business chance if we as a FM company can take away the obstacles for expanding the business quicker than anywhere else. By solving a social issue that East Asia carries and also Japan faces, our company would like to aim for a big leap as a corporation.
Therefore, in order to make these happen, we need "technology" such as AI, IoT and robotics. On the other hand, it does not mean that just by introducing these technologies we can make a change. If there is no "soul" embedded in it, it would not be possible to earn support from our customers. The "soul" is nothing else but a voice from the actual site of work, where we communicate with our customers daily. As a corporation of AEON Group with "Customer-First" philosophy, we are going to listen closely to the voices of the actual site of work where our customers are at the closest point, and we are going to achieve secure efficiency improvement and automation. By thoroughly implementing "site-based principle" and utilizing the technology, we are going to increase competitive advantage by proceeding labor saving/automated operation of FM.
Our management vision in the future
"Continuing to create 'environmental value' of the customers and the local communities" as our management principle, reduction of environmental impact is also an important theme for our company. In addition to "solution for workforce shortage", we will continuously put our efforts in this area. As a new initiative, we have commenced a demonstration project of renewable energy as of 2018.
I consider that by successfully achieving "solution for workforce shortage" and "reduction of environmental impact", which are both social tasks, our company will be able to achieve continuous growth and to remain naturally recognized as a company in need of our customers and the society.
Sharing "venture spirit" and "site-based principle" among all the employees, our company would like to respond to the expectation of our shareholders by achieving further growth.
Kazumasa Hamada
President & CEO
AEON DELIGHT CO., LTD.
May 2018