Medium-Term Management Plan (FY2/22-FY2/24)
Accelerating Our Growth to Realize the AEON delight Vision 2025
In our efforts to realize the AEON delight Vision 2025, we have formulated a Three-year Medium-term Management Plan (FY2/22-FY2/24), starting in the fiscal year ending February 2022.
Based on the three basic policies of the plan, "Customer-Oriented Management", "Promotion of Digital Transformations (DX)" and "Group Management," we will make further advances in order to become an environment value-creating company in Asia that solves social issues.
In FY2023, the final fiscal year of the plan, we aim to achieve 361 billion yen in net sales, 22 billion yen in operating income, and 14 billion yen in net income attributable to owners of parent.
Three Basic Policies
FY2023 Target Figures
Three Basic Policies
1. Customer-Oriented Management (Expanding market share)
The structure we aim to develop uses customer feedback to build on organizational strengths such as service development, quality management and sales, and connects them to proposals with value. In order to realize this, we will create a system to collect and analyze data such as customer feedback and facility status and process this into information with value, and develop the AEON delight Platform ("AD Platform") to efficiently share this information throughout our entire service network including, group companies and partner companies.
In building this structure, the organizational reform carried out in February 2021 newly established an "Marketing DX Control," and the sales departments were reorganized into divisions responsible for acquiring new customers and for expanding existing customer shares. Account managers*1 will be assigned in the departments responsible for existing customers to grasp and analyze customer needs and industry trends.
Furthermore, the Customer Support Center (CSC)*2 that began operating at all of the eight regional offices in Japan starting in March 2021 will aggregate information and requests from each facility. In addition to in-house analysis, analysis of information of customers and facilities will be used for service development and quality management, aiming to provide optimal solutions to the issues faced by all customers both new and existing.
*1 Account managers: Sales representatives who are responsible for business in general for each customer
*2 Customer Support Center (CSC): In addition to gathering customer information and requests, the center provides remote support for facility management services, such as a monitoring station that integrates systems for checking facility operation status and detecting abnormalities.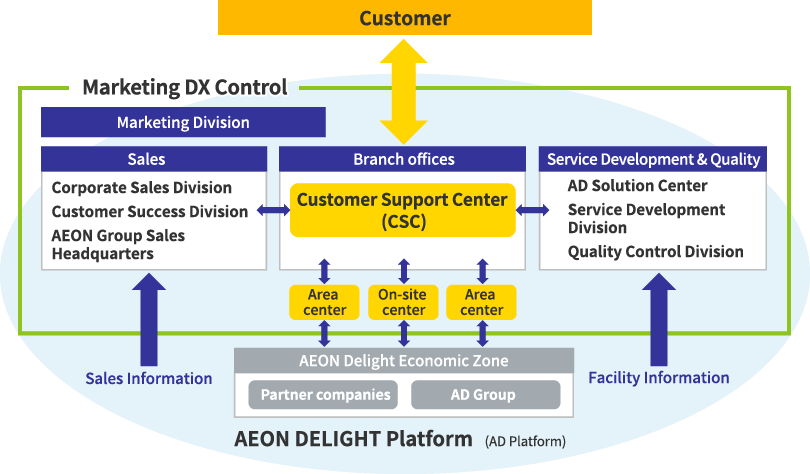 Basic Policy
FY2023 KPI
Customer-Oriented Management
(Expanding market share)
Ratio of sales inside/outside the AEON Group 60%:40%
(FY2/21: 64%:36%)
2. Promotion of DX (Reform of business model / Improvement of profitability)
We believe "Customer-Oriented Management" and "Promotion of DX" are inseparably related to each other. To ensure a customer-oriented management structure with high accuracy, as much information as possible on customer feedback and various facilities must be collected and fed into the AD Platform. In order to do so, we need to increase the number of facilities that can be remotely controlled from CSC*3. We will therefore roll out the "Area Management*4" model centered on the CSC that was launched in Hokkaido FY2020, on a nationwide basis as the new standard of operation.
At the new headquarters relocated in September 2021, we consolidate corporate functions by reviewing operational processes, and also are creating a smart office that will put new work styles starting with teleworking into practice. In addition, by laying the groundwork for a system that enables sharing of real-time customer information by having permanent connection to CSC, we aim to become the closest headquarters office to our customers.
*3 Connection with the CSC will be made by introducing various systems and sensors at the facility under management. Remote control leads to labor saving of on-site workers.
*4 Area management: Unlike conventional facility management with on-site workers to manage the facility, management is done mainly through patrol by facility managers who are shared by an area.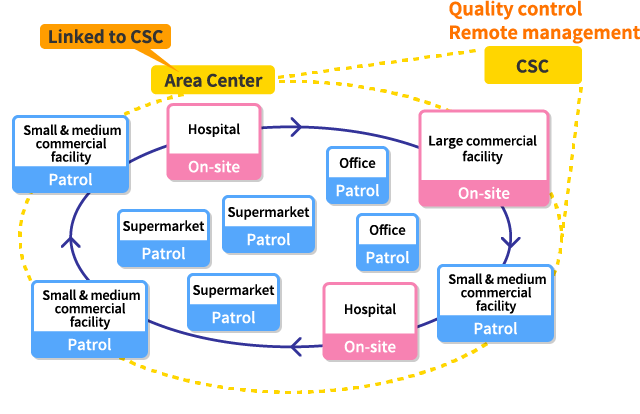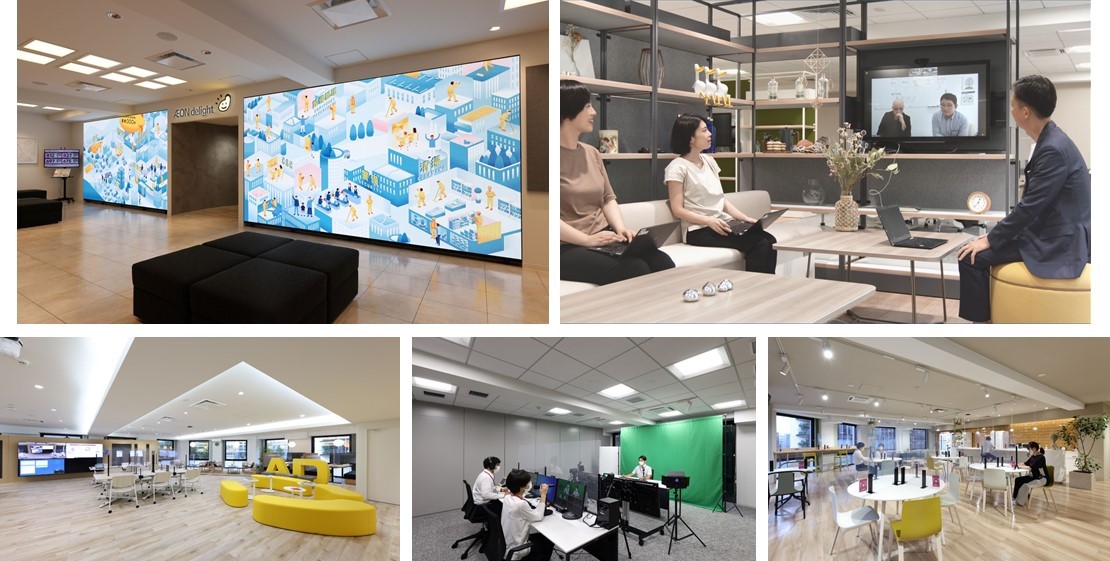 Basic Policy
FY2023 KPI
Promotion of DX
(Reform of business model / Improvement of profitability)
Operating income ratio of 6.0%(5.1% in FY2/21), sustaining the standard of ROE 12% through increasing operating income
Number of facilities introducing area management: 360
Reduction in number of on-site staff through area management: 180
Allocation of 20% of staffs in the headquarters to front office by consolidating head office functions
3. Group Management (Growth as a group)
"Offensive" governance :Clarification of roles and responsibilities of each group company
With the establishment of AEON DELIGHT CONNECT CO., LTD. ("AD Connect") on March 1, 2021, the AEON delight group now has a system in place to provide comprehensive facility management services for all types of facilities from large to medium-sized facilities. By laying the groundwork for a group management system with AD Connect positioned as the core subsidiary to manage small- and medium-sized facilities, we will expand our provision of services to more customers, including cultivating new markets. Through these efforts, we will expand the business fields that our group companies have been developing up until now and enhance our corporate value as the AEON delight group. At the same time, from the perspective of locality and specialty, we will accelerate the formation of a regional economic zone by further strengthening the service network with group companies and partner companies.
In addition, in China positioned as the market with the largest growth potential in Asia, AEON DELIGHT (CHINA) CO., LTD.  ("AD China") was established in Suzhou City as a controlling company for the China business, with aims to strengthen group governance, maximize synergies among core business companies, and establish the AEON delight brand in China. The establishment of AD China has realized a group management structure in China, and by supporting growth of companies operating in the focus areas of central and south China, we will accelerate growth in Asia's largest market, China.
Furthermore, we will actively consider M&As with the objectives of accelerating the formation of a regional economic zone, establishing overseas bases to expand market share, and expanding our business domain.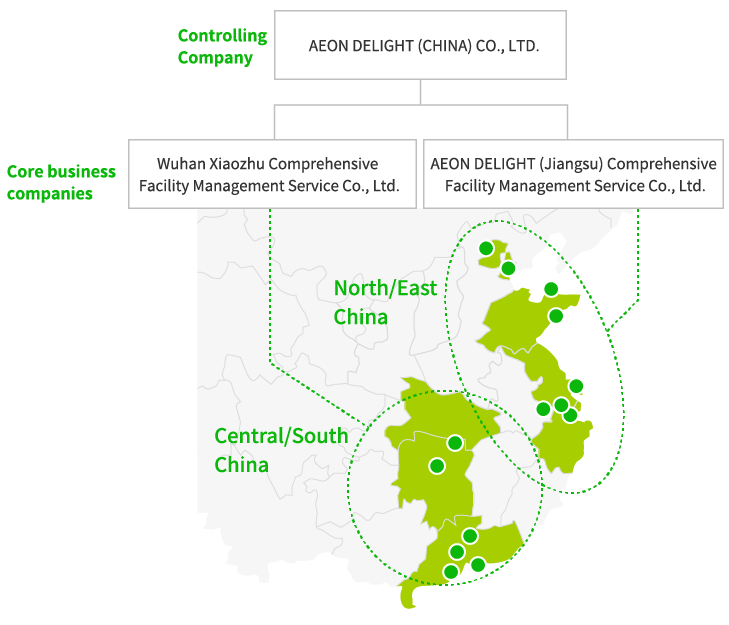 "Defensive" governance :Strengthening our group governance to prevent inappropriate operations
The Recurrence Prevention Committee related to the inappropriate accounting problem at the consolidated subsidiary, former KAJITAKU Co., Ltd.*5, terminated its activities and was dissolved as of March 2021, but we will continue our efforts to strengthen group governance. As part of these efforts, we are proceeding with consolidation (shared services) of finance and accounting departments, with an aim to improve the reliability of financial statements of group companies.
Moreover, the Corporate Culture Committee will be newly established because we believe it is important to not only have systems and rules but also to address changes in our culture in order to prevent improprieties. This committee will work to embed the Delight Way, which is a set of values and codes of conduct that all employees of the AEON delight group must share in order to put the management philosophy into practice, and in addition, work to create a vibrant organizational culture where human resources with diverse values can openly express their opinions.
*5 Please refer to the following documents regarding the inappropriate accounting problem of former KAJITAKU CO., LTD. and our response to the incident:
"Measures to Prevent Recurrence of Inappropriate Accounting at Our Consolidated Subsidiary KAJITAKU CO., LTD." dated July 22, 2019
"Notice of Company Split of Consolidated Subsidiary (Incorporation-type Company Split)" dated November 29, 2019
"Notice of Company Split (Incorporation-type Company Split) at Our Consolidated Subsidiary KJS Corporation (the former KAJITAKU CO., LTD.) and Share Transfer of the Newly Established Company" dated June 30, 2020
"Notice of Absorption-Type Merger (Simplified, Short-Form) with the Wholly Owned Subsidiary KJS Corporation" dated December 22, 2020
Basic Policy
FY2023 KPI
Group Management
(Growth as a group)
Net sales of 65.0billion yen consolidated with group companies in Japan (52.8billion yen in FY2/21)
Net sales ratio of Asia businesses over 8%(6.7% in FY2/21)
Shift to shared services for domestic group finance and accounting departments