The AEON delight Vision 2025
Aiming to be an environment value-creating company in Asia
that resolves social issues
based on three pillars of our growth strategy:
"Safety and Security," "Labor force shortage," and "Environment."
In October 2018, AEON delight has newly formulated the AEON delight Vision 2025 (hereinafter, Vision 2025) with an aim to achieve further sustainable growth. With our Management Principle, We will continue to create "environmental value" of clients and local communities as the cornerstone of our activities, we will strive to realize our goals and to resolve issues in society.
To achieve Vision 2025, we will work to establish a corporate brand as a group of specialists in facility management and form a regional economic zone in the areas that we operate.
Target Figures for Vision 2025
Roadmap to Achieve Vision 2025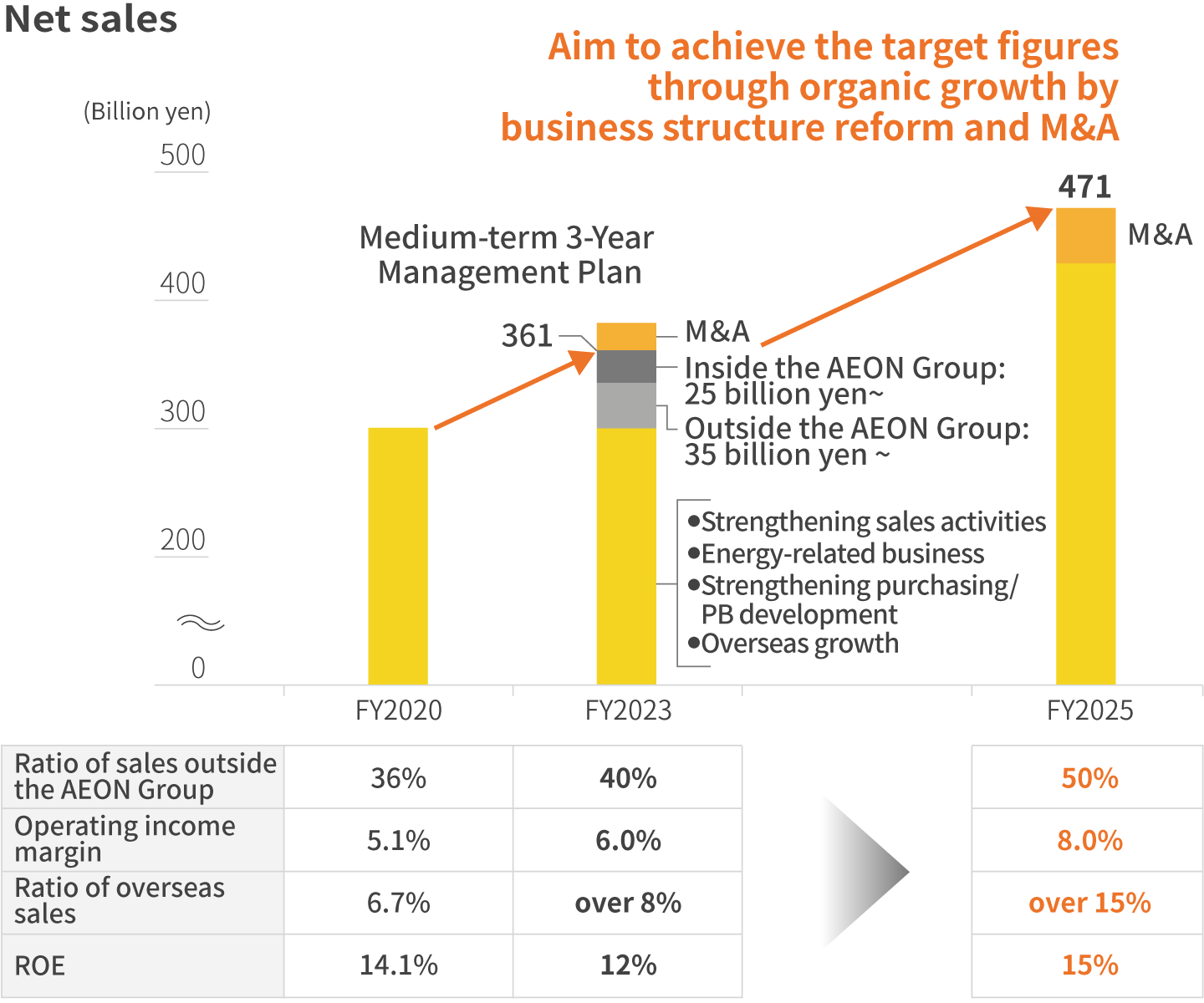 Due to the inappropriate accounting problem at the consolidated subsidiary, former KAJITAKU Co., Ltd. that came to light in FY2019 and the impact of COVID-19 in FY2020, the target figures were reviewed in April 2021.
(Reference) Initial targets announced in October 2018: Net sales of 525 billion yen, operating income of 48 billion yen
Promoting ESG Management and Identifying Material Issues
We will promote ESG management in order to enhance the driving force toward resolving social issues as set forth in our Vision 2025. In order to come up with concrete issues that we need to resolve through business activities, we have identified material issues in 12 priority items in five areas including the three social issues of "Safety and Security," "Labor force shortage," and "Environment" as outlined in Vision 2025, in addition to "Use of technology" and "Corporate Governance," which are essential areas for us to achieve sustainable growth. We will work to resolve these issues through our business activities.
| Vision 2025 | Material Issues |
| --- | --- |
| Safety and Security | Providing a safe and secure living environment |
| Labor force shortage | Solving labor shortages and create an environment in which diverse human resources can play an active role by improving productivity |
| Environment | Reduction of environmental impact through energy conservation and promotion of the use of renewable energy |
| Use of Technology | Utilizing AI, IoT, and robots and responding to risks in the information society |
| Corporate Governance | Strengthening of group governance |
AEON delight's Goals for SDGs

| Social issues to be solved through business | Social issues to be resolved through corporate activities |
| --- | --- |
| Safe and secure facility environment | Human rights and diversity & inclusion |
| Solving labor shortage through the use of technology | Human resource development |
| Reducing environmental impact | Global environment |